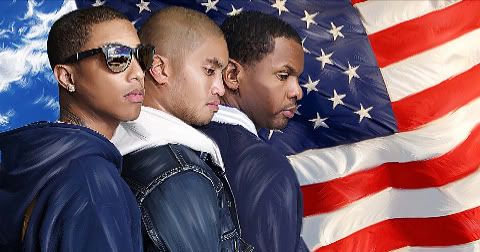 Ok, I know its been a while but 'staying sick' is back and for good this time. Regular posts of a vast variety of music and other sweet shtuff is about to take off. You wait and see...
So, last night I went to the N*E*R*D* show in Sydney. Grandmaster Flash was supporting and the whole evening was a high enery frenzy of Hip Hop madness. Flash, who was the first person to use a turntable as an instrument (ever), definately knows how to get a crowd going. Any supporting act that can get 7,500 people bouncing simultaneously has my respect. He played songs like California Party to Seven Nations Army to KRS.
Then came N*E*R*D*. Now I have always been a huge fan of Pharrell, The Neptunes and N*E*R*D* and to have to the chance to catch them live was surreal. The crowd involvment they carried on from Flash only built and intensified.
Ive decided to share a couple of what I think are the better remixes of stuff from their most recent album, Seeing Sounds.
First is a remix of the very popular Everyone Nose. Listen to the bass in this track!(especially at 2:17) And then Ive posted a remix of a less played/known track called Anti-Matter. This is a complex and different remix by a local boy Destroy Disco.
Mediafire:
Everyone Nose (Douster Remix) - N*E*R*D*
Mediafire:
Anti Matter (Destroy Disco Remix) - N*E*R*D*