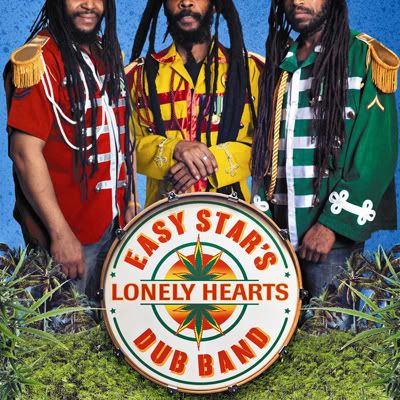 Whilst I am always highly skeptical of anything remixed, re-edited, remade or possibly even re-mastered, here is a little group that slipped under my radar and got a thumbs up. They are the Easy Star All Stars, a reggae/dub group formed on the grounds of simply covering previous material. In 2003 the All Stars released a highly entertaining version of Pink Floyd's 1973 release of
Dark Side of The Moon
, simply titled
Dub Side of the Moon
. Adding another dimension to the already existing spaced out ethereal sounds of Pink Floyd, the dub elements compliment a lot of the original tracks on the record. Following Dub Side of the Moon, the group released
Radiodread
, a song by song cover of Radiohead's
OK Computer
.
As good as these last two records were, it wasn't until
Easy Star's Lonely Hearts Dub Band
(a cover of The Beatles
Sgt. Pepper's Lonely Hearts Club Band
) - which was released this year - that really got me appreciating their versions of great recordings. The horns, the panning of instruments, guitars filtered extensively through various amps and reverb effects presents some of the greatest songs ever released in a completely different colour.
These tracks are not to be compared with one and other because the originals are simply incomparable. They are however just an appreciation of great music played with various influences and something that might put you in the mood for a duck-tail joint.
Easy Star All Stars - Breathe
Pink Floyd - Breathe
Easy Star All Stars - Money
Pink Floyd - Money
Beatles - A Day in the Life
Easy Star All Stars - A Day in the Life